Seven innings. One run. No walks. Sixty-eight pitches. Seventeen groundouts. Name that pitcher.

Carlos Silva had the kind of game we expected out of Radke, the kind of first inning we expected out of Santana. He even had his deadly slider working in the first inning, which was often a problem for him last season. I don't know why they didn't just leave him in for the whole game. I mean, sixty-eight pitches? Well, okay, there was that whole bases loaded thing in the seventh, but I'm almost sure he could have come out strong for the eighth...

But the eighth went to Juan Rincón, who proceeded to shoo the Mariners back to their dugout like the pesky little flies they were. Joe Nathan took the mound in the ninth and earned his first save of the year in three minutes flat.

Meanwhile, it was color commentator Bert Blyleven's birthday--national holiday proponents are calling it BertDay--and Matthew LeCroy promised Bert a homer for the occasion. Matty delivered in the fourth, knocking a three-run blast over the left-field wall. Happy birthday in triplicate, Bert!

Seattle reliever Ron Villone got confused and thought it was first baseman Justin Morneau's birthday instead. Despite the fact that he was actually born in May, I'm sure Justin would have loved the game ball Villone picked out for him, if it hadn't accidentally hit him in the temple.



(AP Photo/Elaine Thompson)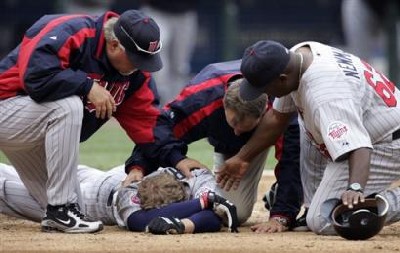 (AP Photo/Elaine Thompson)

Poor Justin. Every time he starts looking like he's not on the verge of passing out, something like this happens. The good news is, he didn't even have a concussion, just a big red welt and a headache. But if I were him, I'd start buying stock in ibuprofen. He might as well get something out of whatever evil hex has been laid upon him!