On Sunday, Detroit first baseman Dmitri Young said: "This is our rival right here. Forget the other teams. I think it's going to come down to us and them."

Well, okay, sure. Detroit is much improved, and has a much higher payroll, from last season. They should see themselves as legitimate contenders for the division. There's no reason they can't compete with the Twins for...wait. What's that? He was talking about Cleveland?!?!

The venerable Shannon Stewart, Earl of Swing, reads the papers. He read about Mr. Young casually dismissing our Twins as being of no consequence next to the (*snicker*) incredible might of (*snort*) the Tigers and (*chortle*) the Indians. Lord Stewart pondered this during the off-day on Monday. He considered it as he prepared for Tuesday's game. He reflected upon it as he sat on the bench between at-bats and stood in the field between plays during the game Tuesday. Until finally, in the bottom of the ninth, with the score tied 4-4, he reached a conclusion.

Master Ford was on second, Master Punto on first. On the mound was the fearful Sir Percival, who had never in his entire career allowed an earned run to the Twins. Stepping into the box, glancing down the line at the smirking Mr. Young, Lord Stewart pronounced with an aristocratic sneer, "I don't think so, you loose-lipped churl." And with that he smacked Sir Percival's first pitch into right center, where it bounced over the wall for a game-winning RBI ground-rule double.

Silly Detroitish peasants--don't you know that it's a bad idea to anger the Earl of Swing?

Other highlights of the game: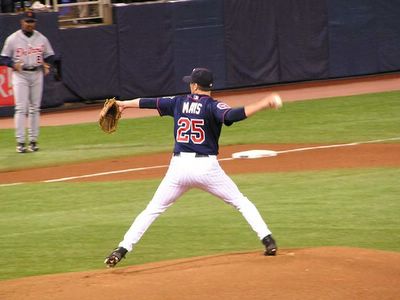 Master Mays pitched for the first time since the invention of the gasoline-powered
automobile.



Young Master Bartlett hit his very first four-bagger, against Detroit's Mike Maroth
in the 3rd.